Everything You Need to Know:
the Cinque Terre Card
Unless you're :
– here during the off season (November to March)
– only plan on taking one train in the Cinque Terre that day
– have a Eurail/Interrail pass. These trains may already be included in your pass, in which case, you'll only need to purchase the Cinque Terre Trekking card if you want to hike the blue trail.
Otherwise, yes, get it – it saves time and money.
The Cinque Terre TRAIN Card includes both trail and trains.
The Cinque Terre Trekking Card only includes the blue trail (no trains).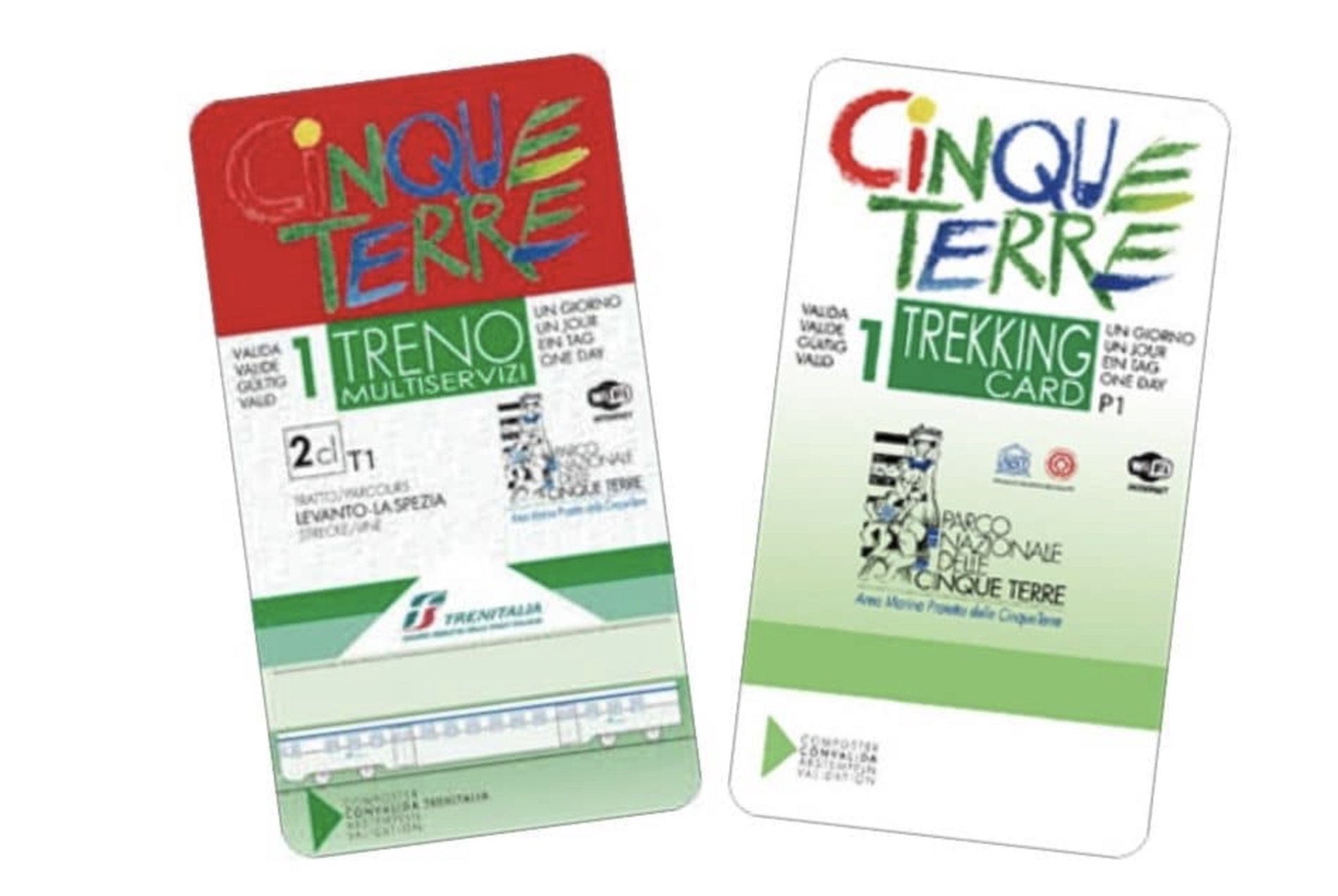 – Unlimited trains from La Spezia to Levanto
– Access to the blue trail : Corniglia, Vernazza and Monterosso
– Use of village Buses
– Use of public bathrooms in the villages
– WiFi at train station hotspots (if you buy your cards online, you'll have to go in the tourist info office to get your WiFi password)
– Guided tours organized by the National Park
– Discounted entrance tickets for museums in La Spezia
HOW MANY DAYS SHOULD I BUY IT FOR?

Remember, the cards are based on a calendar day. So a 1 day card means the full day from morning to midnight, not 24 hours.
To make the most of the card, purchase only for the full calendar days you are here (It wouldn't make sense for you to have the card on the days you arrive and depart if you're just coming directly here or going directly to your destination. In this case, just buy single train tickets.)
PRICES FOR CINQUE TERRE TRAIN CARD:
Hike
1 day
Hike
2 days
Hike
+
Train
1 day
Hike
+
Train
2 days
Hike
+
Train
3 days
Adults (from 12 to 69 years)
7,50
14,50
18,20
33
47
Children
(from 4 to 12 years)
4,50
7,20
11,40
/
/
Family
(2 adults + 2 children)
19,60
31,50
48
/
/
From 70 years old
6
10
14,80
/
/
Groups
(max 25 persons)
120
/
/
/
/
All prices in euros.
Children (0-4 years): free of charge
/ = not available
– Trains in Italy are notorious for being late and the Cinque Terre is no exception, especially in the summer. If you have to be somewhere at a specific time, take the earlier train. It's better to be early and wait around than be late and miss your train/experience/appointment.
– Buy the Cinque Terre card the day before to avoid long lines in the morning.
– Validate your Cinque Terre Card by sticking them inside the green machines, otherwise you will get fined. You'll only have to do this the first time you use your card.
(Even if you're buying single train tickets – Do not forget to validate them. If you jump on a train with a non-validated ticket, it's treated the same as not having a ticket. Train conductors get a commission and can't wait to fine you. No, really, it's brutal.)
– Hiking trails are narrow and with traffic going both ways. People often hit the trails around 9am, so if you can beat those crowds, your experience will be so much better (obviously, don't hike in the dark). Trails never close and trains start running as early as 6am.
– Proper hiking shoes are best, but make sure you're at least wearing close toed shoes with good traction and ankle support.