Cinque Terre
Three-Day
Itinerary
Your home base for visiting the Cinque Terre is Riomaggiore – a beautiful, quaint town with a picture perfect pedestrian historical center.  It's the first of the Cinque Terre villages, so whether you're arriving by car or by train, we're the easiest to access from La Spezia.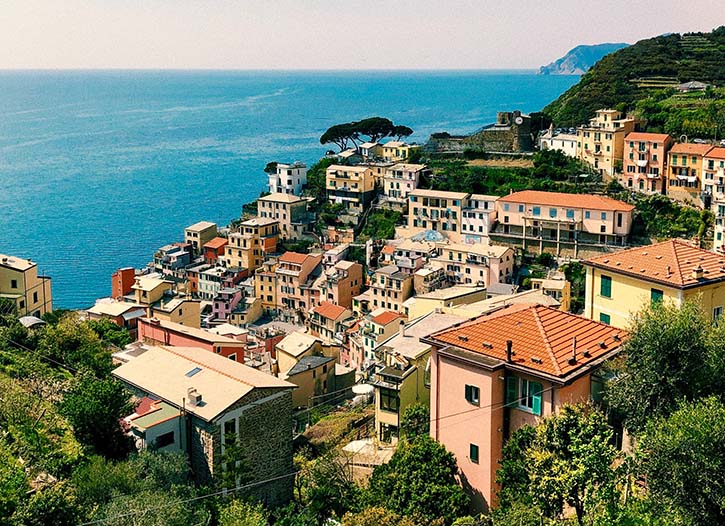 Stay in our dreamy sea view apartments (Casa Giardi – The Upper House) or relax in our accommodations in the heart of the village (Gramsci 31 – J&K – Mare Dentro) for a no stress stay. As we take care of the details, you'll see the difference right away : No getting lost, no frustrating keys and no language barriers. I'll help you personalize your stay to ensure it's extra special.
After putting your bags in your room, have lunch in the marina (I can book this for you beforehand.). Sit on the restaurant terrace with a gorgeous view of the water and dive into your beautiful plate of spaghetti ai frutti di mare… or a Ligurian classic, pasta al pesto.
After lunch, take a walk around Riomaggiore to get acquainted. Get the lay of the land — the churches, the piazzas. If you follow my directions, you'll end up at the train station (where you can buy the Cinque Terre card). Stop for drinks at A Pie de Ma: the views are unbelievable.
After the walk around, go back to your room and get ready for your sunset boat tour. I'll book your spots beforehand so they're secured (yes, we do sell out).
With our top notch crew, local white wine and a beautiful swim at sun down, this will be your favorite Cinque Terre experience.
(If you prefer a private or day tour, let me know and we'll sort that in your customized itinerary).
Get back on land, have dinner (I'll reserve this beforehand as in the high season, walk-ins aren't always easy to accommodate) . With the day trippers gone, enjoy a less crowded, after-dinner stroll… Buona notte!
Corniglia, Vernazza and Monterosso (Blue Trails)
Get your Cinque Terre cards ready.
In the high season (May-September) wake up early to beat the heat and the crowds. You'll hate me in the morning, but you'll thank me when you see the hoards of people at 11am (while you'll be relaxed at the beach.)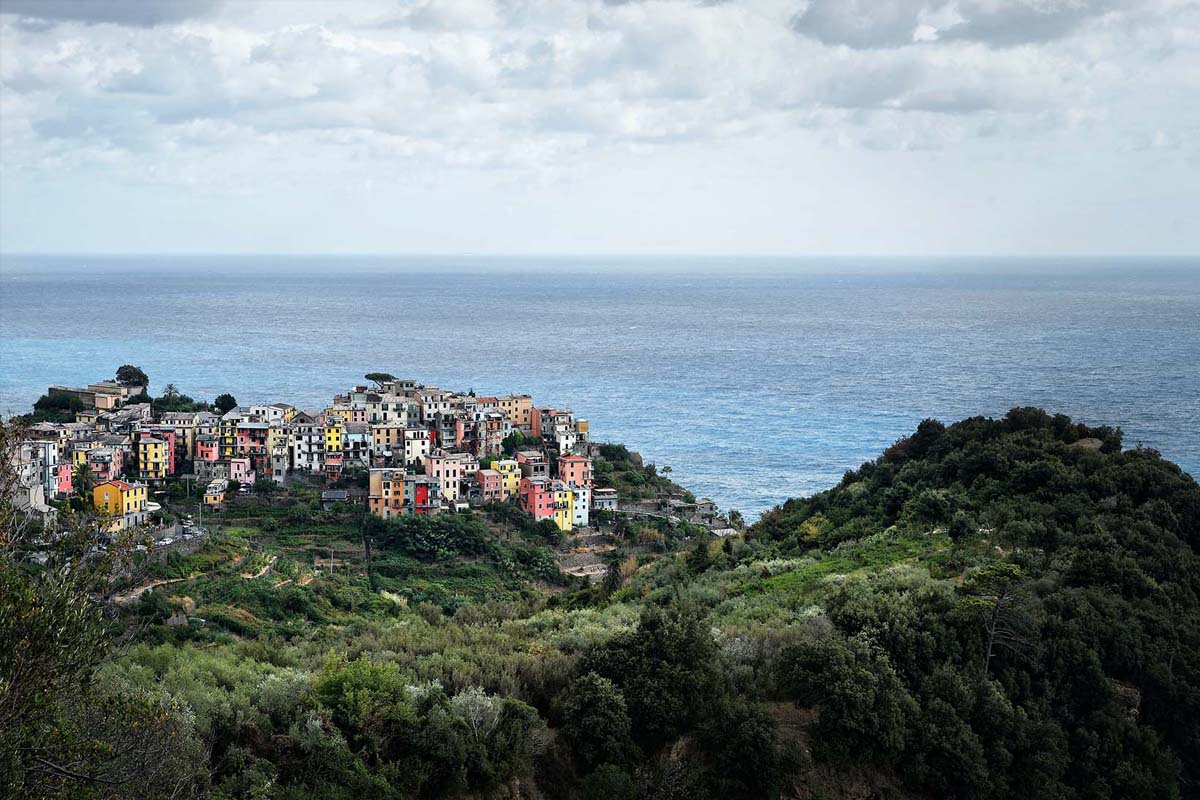 Take the train to Corniglia. Remember, this is the smallest of the Cinque Terre towns that sits up on a cliff. Exactly, this is the town with the 400 steps up to the village.
If you have the Cinque Terre card, you can take the bus up to the village for free.
Corniglia – Vernazza hike
Vernazza – Monterosso hike
Your hike will end in Monterosso – get an easy bite to eat along the boardwalk or in the historical center. If you get in early, see if you can snag sun beds at the beach club (Eden is a favorite) and enjoy some well deserved R&R. Otherwise, find a spot in the free section to lay out your towel for a refreshing dip. You can spend the rest of the day in Monterosso, or if the crowds are too much for you…..
Come back to Riomaggiore, jump on the kayak tour and discover magical coves and secret beaches… away from the chaos. Or be your own captain and rent them on your own. (The guided tour takes off at 3:30pm, so be sure to be back to Riomaggiore by 2:30pm).
Don't worry, you don't have to be a fitness buff or have tons of experience, but be sure you're able to keep a moving pace for at least 1-1.5 hours.
If you have some time before dinner, have an aperitivo with the most spectacular view : at A Pié de Ma or La Conchiglia.
Dinner reservations will already be set up (hopefully at one with an award worthy view). After today, you'll easily get some good shut-eye.
Riomaggiore, Manarola and Corniglia (Red Trails – the alternate routes to the closed Blue Trails)
If your calves aren't screaming at you this morning, lace up your shoes and get ready for today's stairmaster hike.
(If your body is telling you to rest up, skip the trails and visit Manarola and Corniglia by train. Maybe book a pesto class. Or consider getting a panino and head to the beach.)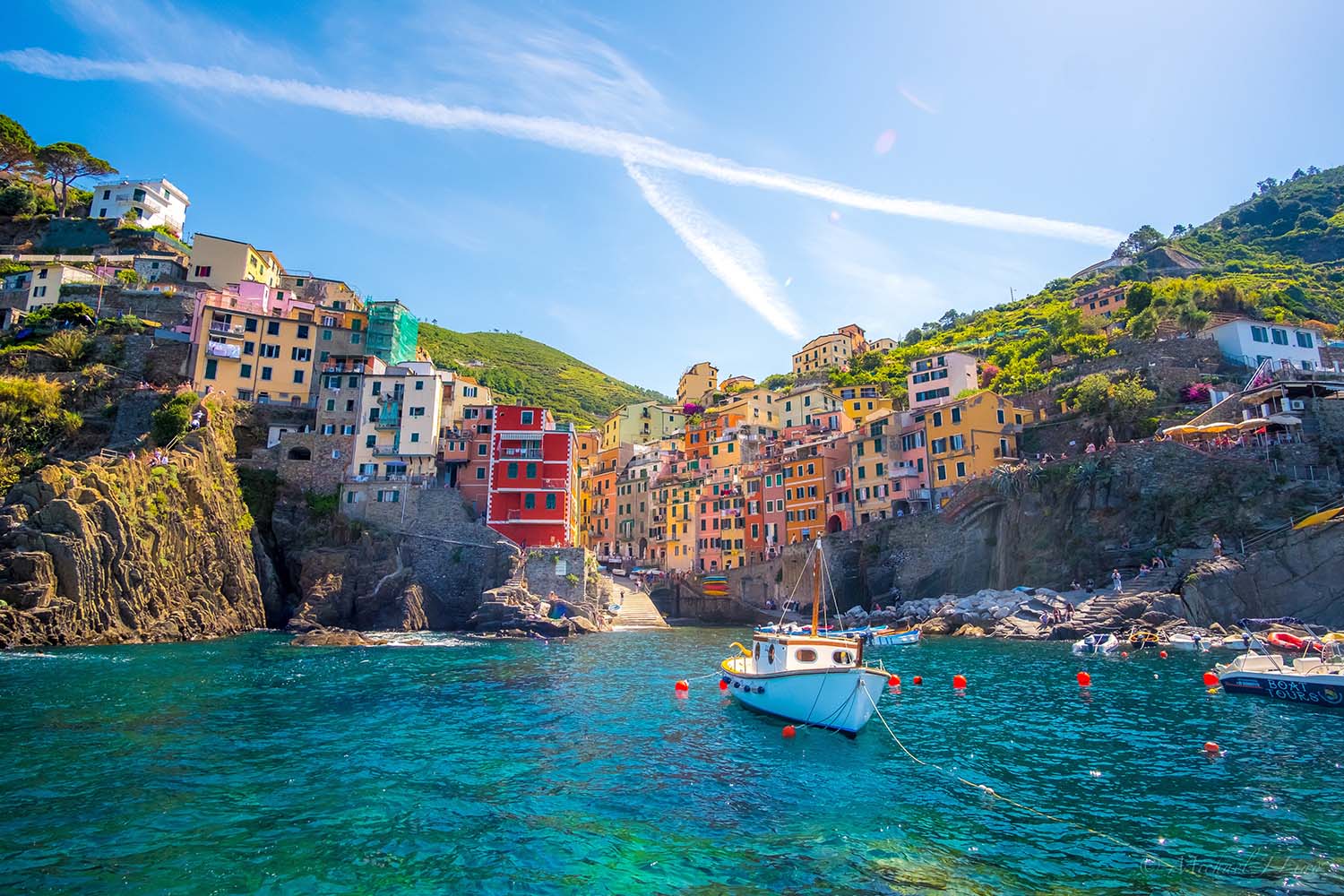 Due to landslides, the via dell'Amore and the blue trail from Manarola to Corniglia are closed. These alternate routes are called the red trails.
You won't necessarily need the Cinque Terre card as red trails are free.
When you're in Manarola, don't forget to visit Punta Bonfiglio. It's that postcard viewpoint (you know what I'm talking about) with benches and a playground. It's also where you'll find Nessun Dorma Bar.
To get to Punta Bonifiglio: From the marina in Manarola, looking at the sea, take the walking path on the right. Follow it until you see a staircase that goes up. Voila, welcome to paradise.
When you're in Corniglia, there's a cliffside piazza, behind the oratory with breathtaking views. Grab drinks at Terza Terra or Km 0 and don't forget to get a gelato at Alberto's or Un Mare di Yogurt. So yum.
For the afternoon, I can pre-book either a sit down wine tasting or a vineyard tour with a local vigneron. If you like wine, don't miss out on the famous Sciacchetrá (dessert wine) particular to the Cinque Terre. (Warning for September travelers: It's harvest season, so vineyard tours might be hard to book.)
It's your last night, so let's end it a bang: whether it's A Pie di Ma in Riomaggiore, Miky's in Monterosso or La Torre in Vernazza in Vernazza, reserving early is key, so reach out and we'll make it happen.
*3 nights is the minimum we recommend in the Cinque Terre, but if you have a shorter or longer stay, once you're booked with us, we'll customize the details.
Monterosso – Levanto – Bonassola